1xbet Telegram
Start 1xbet telegram betting right now, after you register account on official website. To login to www.1xbet.com and start the registration process use the login link below:
We suggest watching the full video instruction for registering 1xbet via telegram, where all the steps for creating an account are discussed in detail:
Betting office provides a free bonus for new players for making their first deposit, which allows them to bet on sport events or online gambling in the casino, as well as play themselves in 1xGames. This article will describe how to join to 1xbet in Telegram, open an account through social networks and start sports betting in the messenger.
Telegram Betting
Telegram messenger is used not only for exchanging communication with people, but also for pacing bets on sports or getting information about upcoming matches. In 2023, online betting in Telegram is developing rapidly. Many cappers create communities and public's, attracting newbies with big wins.

Here you can find discussions of football predictions, cricket strategies, basketball odds features and many useful instructions for playing casino slots. You can find one of such Telegram betting group by nickname @sports_betting_apk - this is a community with hundreds of interesting guides on how to play correctly and earn money.
1xbet Telegram Registration
There are two ways to register at a bookmaker via Telegram:
via bot - quick sign up without leaving the messenger;
via website - allows you to choose 4 registration methods and use a promo code to get the maximum bonus.
To join 1xbet Telegram, use the official bot of the bookmaker. You can find 1x bet bot by nickname in the messenger "@Bot1xbetbot". By launching 1xbet Bot using the "Join" button, the user is provided with several functions from the main menu - apps, log in, live, sports, top matches, help, etc. To register in 1xbet via Telegram click on "Registration" button.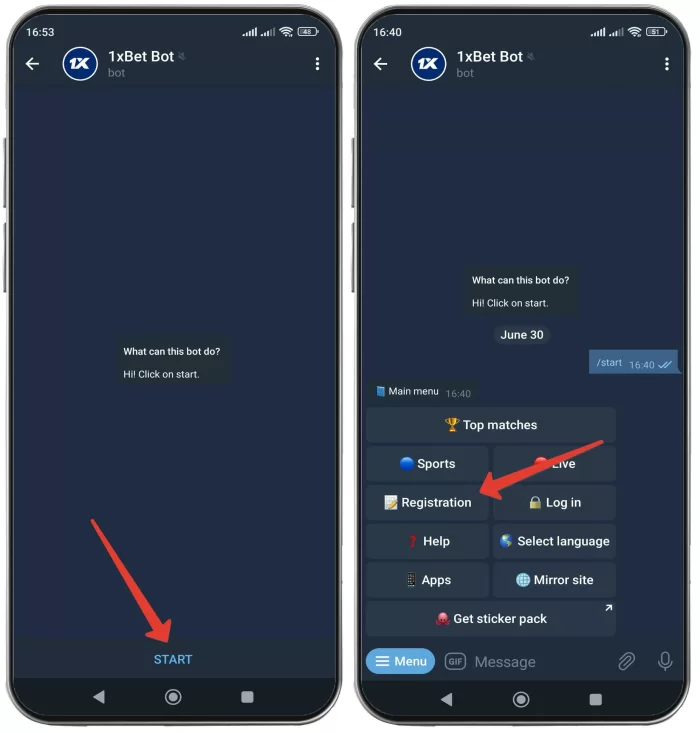 After that, you will be asked to choose a platform for registering "Via Bot". Then the currency wallet is indicated, for example: BDT - Bangladeshi Taka.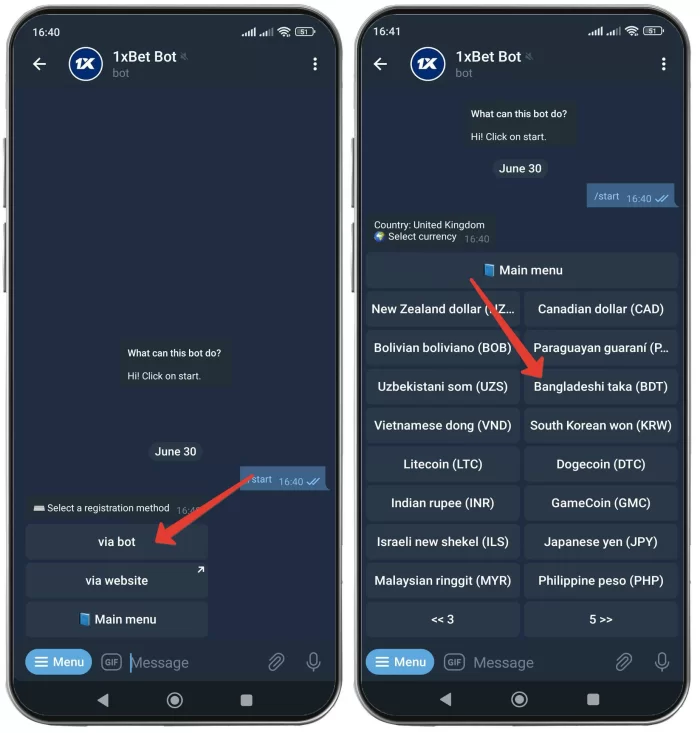 Having selected a currency account, the user proceeds to the final step - linking email. To cancel the entry of mail, you must click on "Cancel".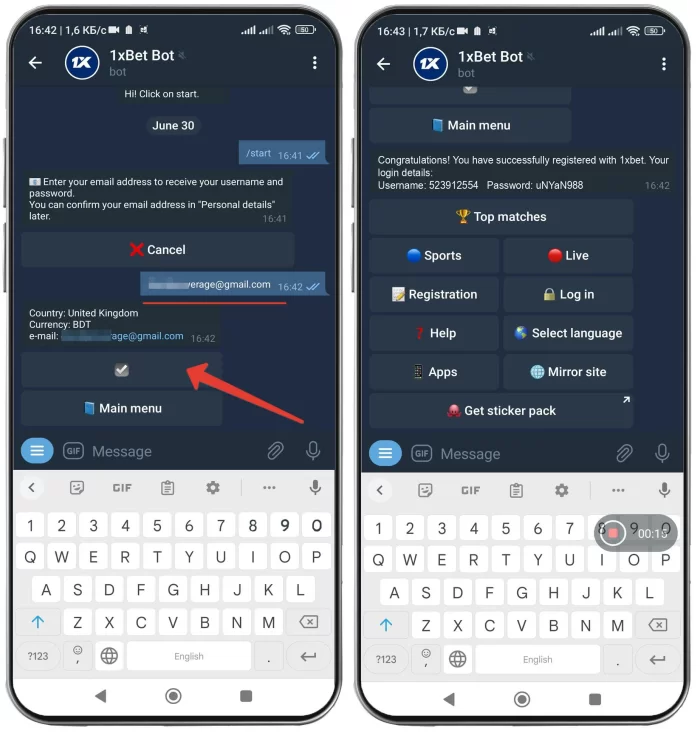 After completing the registration in Telegram, you can continue to use the telegram bot to place bets, as well as to search for matches. Next, we will tell you how to create an profile in 1xbet by choosing registration on the site.
1xbet Registration via Telegram
After entering the official website, beginners are offered 4 ways to sing up - by phone, by email, in one click or via social networks. Previously, we have already considered 1xbet registration methods in more detail. Therefore, below will be considered 1xbet Telegram sign up process:

Visit the official website of the current 1xbet site by clicking on the register button below:

Choose the method of account activation via social networks.
Click on the Telegram icon.
Choose the currency, 
Select your country of residence
Select welcome bonus type, e.g. free bets on sports or casino games in 1xGames.
Click on the button "Register".
After that, Bet App will call up a new window in the browser and request confirmation of personal data in the above mentioned service, Yandex, Telegram, Google plus, Vkontakte, Mail.ru and Odnoklassniki. By clicking "Allow" , you agree to access your login, personal profile information, date of birth and mail address.
Remember your electronic account number and password on the official 1хbet website or save your personal data on your device in the Computer or on your phone by clicking the appropriate links. After completing registration, click on Log in to website.
1xbet Telegram Support
You can contact the support of the bookmaker through the telegram bot, the link to which can be found above. You can call the instructions for managing the telegram bot using the /Help command or by clicking on the corresponding button in the main menu.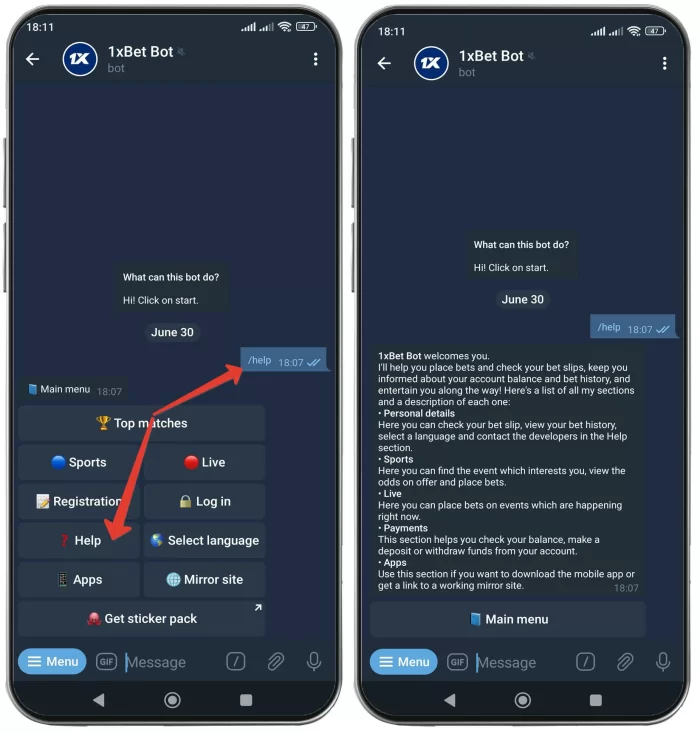 Next, a hint will appear on how to make deposits, download the application, place bets on events in Live, find matches and bet on football or any other sport. If you need help from a specialist, go to 1xbet.com using the link in the bot.
You can also get help from the 1xbet telegram support in the betting communities of the messenger.
1xbet Telegram channel Bangladesh
As we wrote above, there are many fake groups and public's in Telegram that deceive bettors for money. There are also clones of the official 1xbet bot, which instead of making bets takes money for itself. After that, many beginners can form an erroneous opinion about the bookmaker.
To join the 1xbet telegram channel for Bangladesh, Somalia, Cameroon and other countries of the world, you need to enter a special username in the search box - @sports_betting_apk. Чтобы найти и присоединиться к 1xbet telegram group выполните следующее:
Login to Telegram.
Enter the name of the channel "Sports betting apk" into the search.
Click on "Join" to subscribe.
After that, you can remove the notification from the newsletter. Basically, these are interesting and profitable bonuses for all users. Here you can also follow the release of the 1xbet app update and download the new version from the official website.
1xbet Bangladesh
Guide how to login on best betting site in Bangladeshi and register an account - Join to 1xbet.com.bd and start place bet on sport. Profile create process with sign up...
Happy Friday Offer in 1xbet
Answers to all questions about how to use lucky friday bonus - Bonus wagering requirements on 1xbet, rules and withdrawal conditions....
1xbet Ghana
Questions and answers about how to start sports betting in Ghana with 1xbet bookmakers company....