1xBet Personal Profile
How to confirm phone number on 1xbet? How to fill personal profile? Why do I need to confirm my e-mail address in 1x bet? Why you need to enter passport data in your personal account? Why you need to enter passport data in your personal account?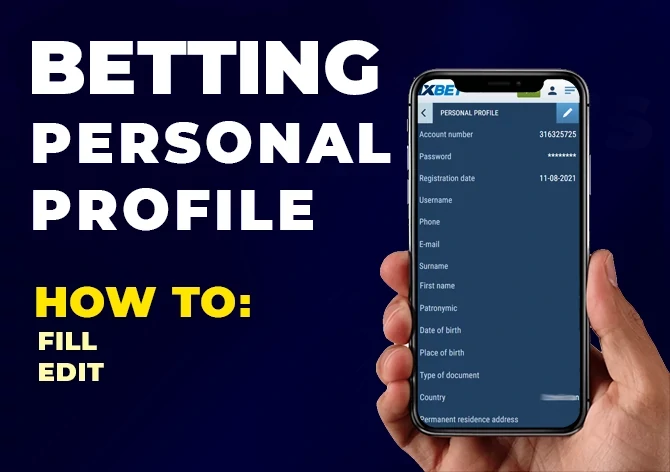 Sing up and place 1xbet bets on the official website or through the application. However, if you did not enter private information in your 1xbet personal profile, you may have problems with withdrawing money to the card. To cash out winnings without errors, start filling in the data in your account right now. You can enter the 1xbet.com website using the login link:
If you do not know how to fill personal profile in 1xBet, follow the further instructions in the article and enter correct information.
How to fill personal profile in 1xBet
«You should fill in all the mandatory fields in your personal profile 1xbet» — such error notification appears for players who face problems when withdrawing money from 1xbet. Anyone who has ever won on bets in bookmakers knows that to transfer money to a card, identity verification is required by passport, e-mail and phone number.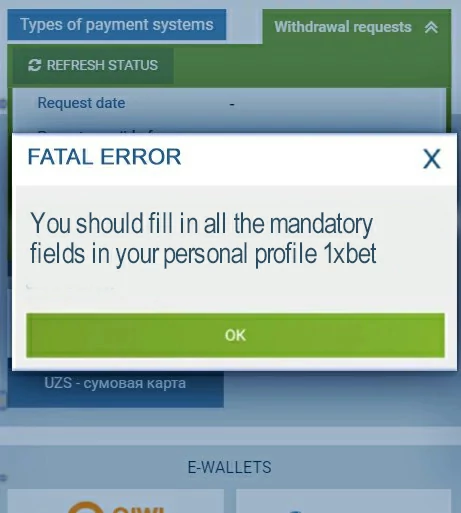 Error requesting documents in 1xbet for withdrawing money
To fill all personal information in 1xBet profile you need login and registering an account. After then, log in and go to your account settings. Fill in the blank fields with valid information: full name, phone number, mail, date of birth, etc. Next, all sections of the personal profile will be viewed and instructions will be given on how to add, delete or replace old information in 1xbet. For this you can use both the mobile application and the official website of the bookmaker.
Before changing your account settings, we recommend that you familiarize yourself with the video guide about 1xbet personal profile editing:
Having studied the main points, you can begin to eliminate errors in editing your personal account in the bookmaker, starting with the phone number and ending with the choice of language.
Phone number in 1xBet
Mobile phone number in 1xbet is used to log into your account, as well as withdraw money. Therefore, all beginners are advised to bind a phone number to a profile immediately after registration or create an account using the
«By phone»
method. If you registered in one click, by e-mail or logged in through social networks, you can activate the number in 1xbet through your account settings.
According to the rules of the bookmaker's office, it is forbidden to register other people's data in 1xbet. And given the fact that when you enter a phone number in 1x bet personal profile, you need to confirm it, you will not be able to link the left telephone number to your account. Next, we will consider instructions on how to connect a number to a 1xbet account.
How to activate phone number on 1xbet:
Visit to the website 1xbet.com or open the mobile app.
Login to account and go to the «Personal profile».
Click on the edit icon (pencil).
Select the phone section and verify the number.
In the new window that appears, you can select the country or enter the code manually, then enter the phone number and click on
«Link phone number»
. The phone is indicated in the following format:
+ (Country) (Operator) (Number)
. An example of input for connecting a number is shown below: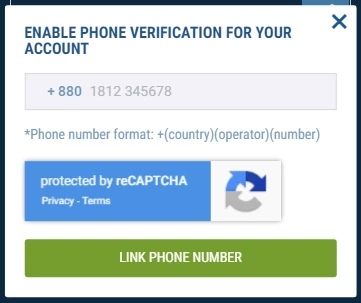 Enable phone verification for your account and withdraw without problems.
Number change in 1xbet
You can also change the phone number to a new one and save the settings directly in your personal account. To do this, open the
«Personal Profile»
section and click on edit.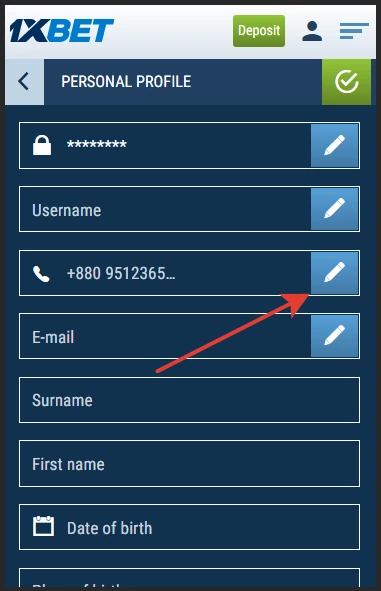 If you cannot replace the parameters, contact the security service of the bookmaker's office. You can do this by writing an email address:
info@1xbet-team.com;
security@1xbet-team.com.
E-mail address in 1xbet
Electronic mail address is used in the bookmaker's office as a way to enter 1xbet into your account. You can also use mail to receive notifications about various promotions, recently launched contests, central matches of the week, promotional codes, bonuses and much more. To activate your email in your 1xbet profile, use the instructions above to go to your account settings.
How to change email on 1xbet app:
Login to 1xBet.
Open the personal account menu.
Go to the profile view tab.
Select a section "Security settings".
Press on edit and change e-mail address.
If you would like to contact to 1xbet support by mail, use the following emails and write your question.
1xbet contact email:
info@1xbet-team.com - general queries;
security@1xbet-team.com - security department;
marketing@1xbet-team.com - public relations and advertising;
b2b@1xbet-team.com - partnership queries;
accounting@1xbet-team.com - finances questions.
To contact the 1xbet administration, you can also use the hotline telephone number - +44 127 325-69-87.
Melbet promo code
Learn more about the registration bonus using the Melbet promo code....
1xbet first deposit bonus rules
How to follow the conditions of the 1x Bet bonus program or how to refuse and disable bonuses - Rules for receiving bonus and withdrawal of funds....
1xBet Personal Profile
Full guide about how to fill all field in personal account and editing parameters....