Where is 1xbet locations?
Question: Why does 1xbet ask for location from its users? I downloaded the mobile betting app for the first time on an Android phone and was asked by the bookmaker to allow viewing information about GEODATA. After logging in to the 1xbet application, a new window pops up with the message: "Please enable location in your device settings." Here you can click on " Allow only when using 1xbet "and on "Deny". I tried to close it and log in again, but it still doesn't work without enabling the geo-location to place bets. On the site, the browser does not request location, why do I need to show it in the app?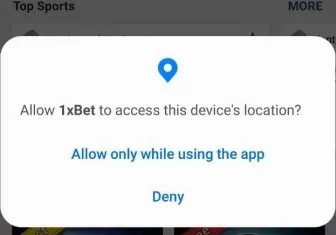 The bookmaker understands the importance of security and uses all necessary methods to maintain the confidentiality, integrity and availability of user information. 1xbet stores all player's personal information, which the betting company receives directly from the bettors themselves, in an encrypted and password-protected database located in a secret secure network behind an active modern firewall software. 
When you log in to 1xbet via the official website, the BC determines your location based on available data. And those who downloaded and installed the app on their phone will need to manually grant permission to view information about your geo-position. To do this, click "Allow" in the pop-up window when you first log in to the betting program on your Android smartphone.
How to register with 1xbet app?
Full guide about 1xbet app registration on your phone....
How to get 1xbet casino bonus?
Questions and answers about freebets and free spins in 1xGames and casino slots....
How to log in 1xbet without e-mail?
Instructions how to login in 1xbet online without entering email....