What is Document Series in 1xbet?
Question: I read that in a bookmaker's office, all users must specify the identity card. Even when registering by e-mail, I have a mandatory window where you need to select the type of document and enter the data. Are there any real players who have already entered their id details in their personal account? Is it safe? And what happens if you insert wrong identity card data for 1xbet and register under a fake?
Answer:
Registration in the 1xbet betting company is also possible in other ways, where you do not need to specify your passport and other identification documents: in one click, by phone or via social networks. However, when creating an account using one of these methods, the user may have problems with money transactions on game accounts, for example, withdrawing money from 1xbet.
Document Series Meaning 1xbet
If Bookmaker asks for documents, you should send everything you need immediately. 1xbet request for documents in some cases — account theft or hacking attempts, money laundering, money withdrawal, suspicion of you of violation of the rules. Check the mail to which the letter with passport data was sent. In case of an error, resend the photo of the documents please email the security team 1xbet. You can read more about the verification rules on the official website of the bookmaker — www.1xbet.com, which can be accessed at the link below:
Personal identification documents are mainly required for a particular operation in the 1xbet personal account. For example, in order to change the payment system, a photo of the card processing agreement may be required.
Reasons for 1xbet Request for Documents
Information about National identity card is provided for the security of your account. If the account is taken over by a fraudster and tries to change the payment system for withdrawal or phone number, the bookmaker will request passport data. 1xbet betting company keeps all users' personal data confidential and does not transfer information to third parties. Verification is at the discretion of the security Service.
To activate document number in 1xbet, go to your account settings and select the «Personal profile» section. Then use the pencil icon or the «EDIT» button. Fill in all fields with information about yourself so that they do not differ from the data in your ID. Next, enter document issue date and number.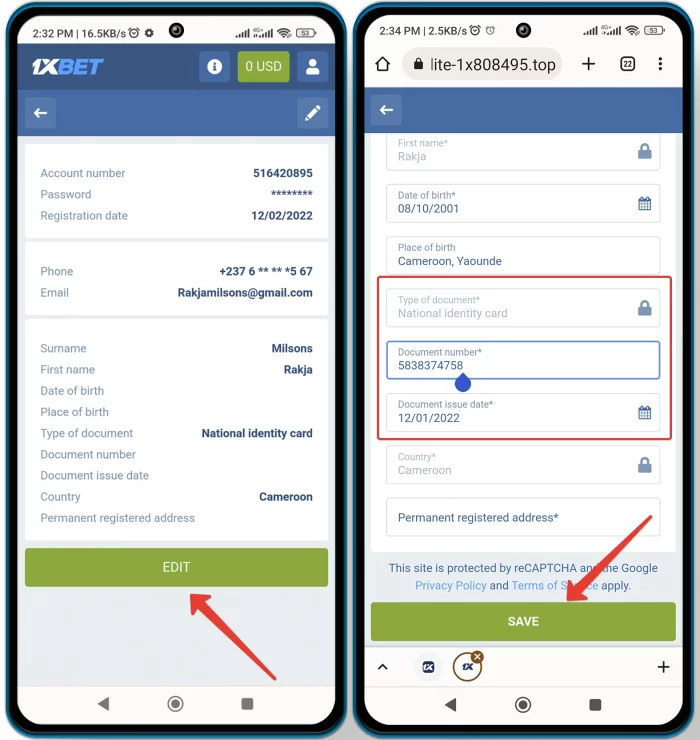 Also, users can contact an online consultant on the website and in the app to verify the necessary identification. After getting an answer: «At the moment, no additional documents are required», continue to make online sports or games bets without specifying the series and passport number. However, you may also receive the message: «Request for documents please email the security team 1xbet», which means that you urgently need to send your passport data to security@1xbet-team.com.
1xbet tricks to earn money
How to earn money on the 1xbet website - Ways and methods to quickly earn big money connected with risk and excitement from 1xbet rates......
1xbet Ghana
Questions and answers about how to start sports betting in Ghana with 1xbet bookmakers company....
1xbet Nigeria
What happens if you specify another country when registering in 1xbet for Nigerian users?...