How To Find My 1xbet Account?
Question: Why can't I login to 1xbet? I went through the registration, but I was in a hurry and forgot to save the login with the password. I enter my login data, but I can't sign in to my betting profile.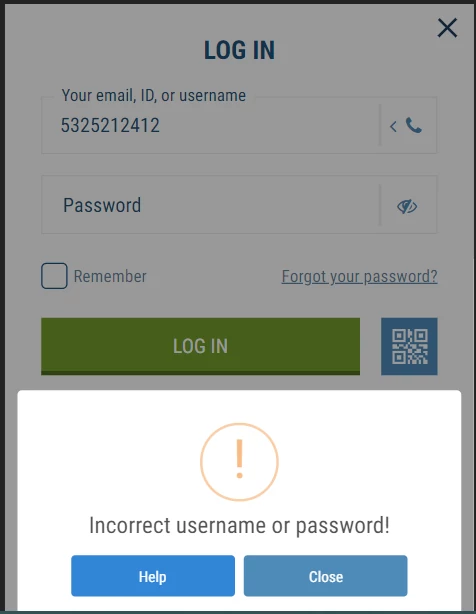 I get an error with the text:
«Incorrect username or password!»
. If I click on the
«Help»
button, a chat with an online consultant opens, but what should I do next. Pray, tell me how i can find my 1xbet account and recover ID number with password.
Answer:
Forgetting the password, players provide false information for authorization on the gambling site. As a result, you can get the error 1xbet invalid username or password, the cause of which we will analyze below. Next, we will explain the causes of the error, as well as how to fix it — how to recover your 1xbet account & get ID number with password.
1xbet Invalid Username or Password
Errors when entering the 1xbet game account mainly occur when entering incorrect information. In this case, the bookmaker's system will generate an error and inform you about entering invalid username or password. That's just how to find out in which field the wrong login data was entered. In order to pass authorization, you must enter valid your ID number and password.
Having received a message stating that you entered an incorrect password or user name when entering your personal cabinet, you need to check what exactly was entered wrong. To do this, try to remember how the registration at the bookmaker took place, namely, whether the phone, email or social media profile was indicated.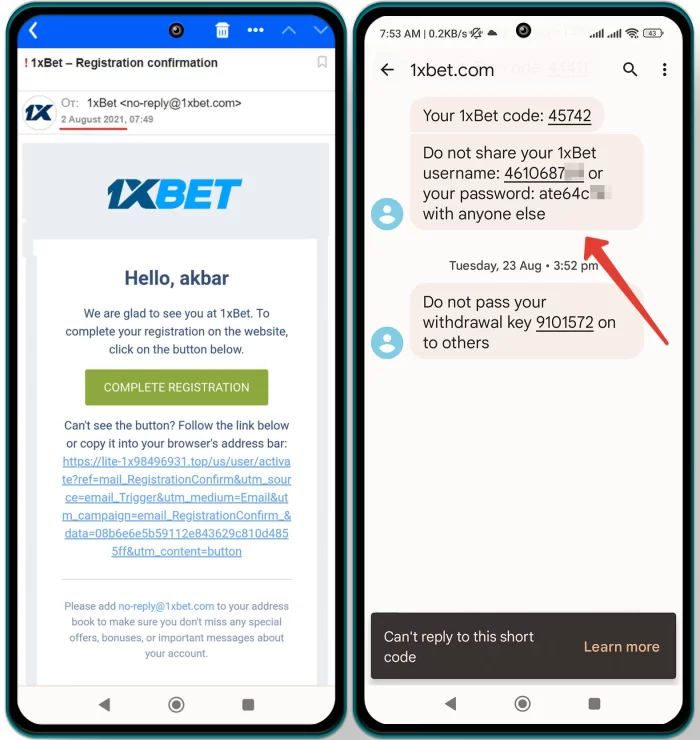 For example, if you link an account to a phone, you will receive a message with login and password on the day of registration. If an email was linked, remember the date you received the email and contact support.
How to Recover My 1xbet Account
If no additional information was attached to the gaming ID, you can look for saving the login as a screenshot or document — after completing the account creation, you can use this function.
Users who have not saved their username or password need to report a problem via feedback to
security@1xbet-team.com
. Indicate that you received an error:
«Invalid username or password»
when logging into your account. Processing an application to restore access to your cabinet may take from 1 to 3 days. The administration will also ask you to provide:
TIN number or any other identification document;
Active phone number and email;
Passport photo and selfie.

Instead of an ID, the user can log into his 1xbet account by phone number or via e-mail. To this, Visit the office www.1xbet.com website:
However, this option is only available to those who have previously passed personal identification. And so you ask how to login to my 1xbet account. Below you will find detailed instructions on how to get authorized on the bookmaker's website.
How To Log In To My 1xbet Account:
Go to the 1xbet website by clicking the button above.
Click on the «Login» button.
Enter ID, phone number or e-mail.
Enter password.
Log in to your 1xbet account.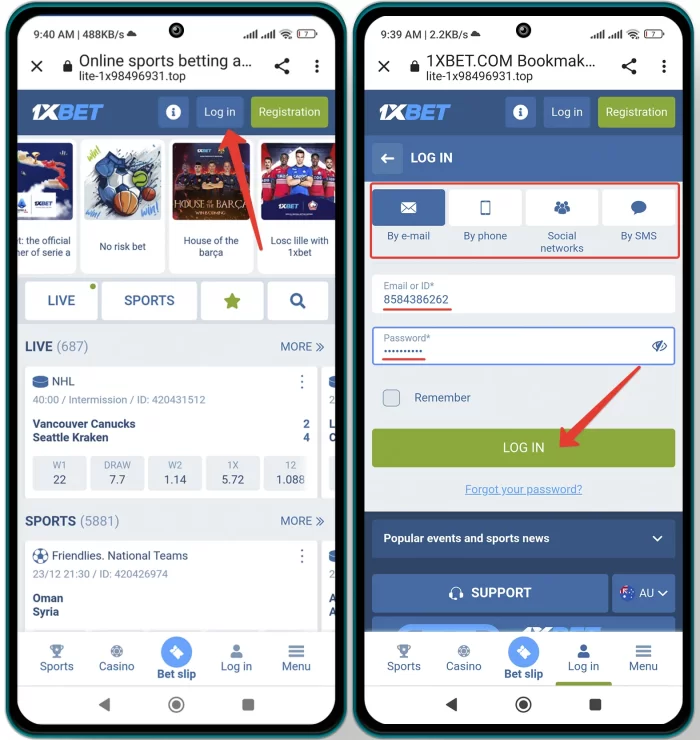 If you linked a phone to your account, you can enter by number by clicking on the phone icon in the authorization menu. After that, you will be prompted to enter a password or log in via SMS confirmation. There are also ways to sign in by email / ID / profile in social media or by sms-message.
1xGames Bonus Account
1xbet bonus, prizes, gifts and free bets in 1xGames....
1xbet App For PC
How to install 1xbet application and software on your computer or laptop with Windows / Linux system's for free through the official website in Bangladesh, India,...
1xbet Wednesday Bonus
1xbet "Wednesday - x2" bonus - how to receive, use, win back and withdraw money...