How Does Google Authenticator in 1xbet Work?
Question: In the 1xbet personal account, it is written that to fully protect your account, you must enable two — factor authentication in 1xbet by scanning a QR — code. How can I do this? What is a QR code, how do I scan it and enable two-factor authorization? Also, in the settings of your personal account, it is written that for activating all security points, 1xbet gives a promo code for a free bet. Is it true? How to use google authenticator for 1xbet?
To set up two-factor authentication in 1xbet, you must scan the QR code with a special scanner through the google authenticator app. You can download the application from the play market. The program will issue a special code every 15 seconds. Having installed additional account protection, you will have to enter 1xbet using the code from the application every time. To do this, you will need to log in to www.1xbet.com using the login link below:
After logging in, try logging in again. In case of a login error, use the instructions below.
1xbet Authenticator Code Problem
What should I do if I lost the google authenticator code for 1xbet? How to recovery 1xbet google authenticator code?
If you lose the unique code to enable QR code login and enhanced security functions, you cannot scan the QR code again. To disable google authenticator in 1xbet, you need to login to your personal profile. Here you can disable login to 1xbet account via QR-code. Next, we will look at how to remove the function for your personal account forever
Two-factor authentication in 1xbet:
— 

You will need to verify when you log in

— 

Hard to recover if lost

After studying the pros and cons of connecting two-factor authentication, think about whether it is worth using it. Many players who make a mistake and do not save the secret key cannot return access to the account.
How to Get Google Authenticator Code For 1xbet
«Verification code is incorrect» — this message comes out for everyone who enters the wrong code to enable the enhanced security function of a 1xbet account. To connect Google Authenticator to 1xbet, download mobile application from the "Play Market". After that go to settings in the betting personal profile — open Two-factor authentication. When you switch to another application, a cipher will be shown on the screen, which can be saved by clicking on «OK». And if you click on «Show QR code» you can scan the code manually.

Video about enable two-factor authentication in 1xbet:
Google authenticator provides security and protects you from unauthorized access to your personal account. Therefore, the 1xbet administration recommends enabling two-factor authentication and protecting your account from hacking. To enable the feature, you will first need to go to the official website of the bookmaker using the button below:
1xbet login can be done without proxy servers and vpn anonymizers thanks to the mirror of the official website 1xbet.com. Using the website clone, you will be able to access the bookmaker and bet online without interference from Bangladesh, India, Nigeria and any other country in the world.
Despite the protection it provides, most users turn on two-factor authentication for another reason. The reason for this is a free promotional code without a deposit, which 1xbet gives to all players for filling out data in their personal account.
How to Login 1xbet With Google Authenticator
By enabling two-factor, you can continue to bet in your account so that you do not need to log in again until you log out of your profile. Thus, in order to login to 1xbet with Google authenticator, you need to go through authorization again, where the code from the previously downloaded application will be requested.
Before performing two-factor authorization in your personal account, log in to the bookmaker's website or to the application on your phone / PC. Next, click on the "LOGIN" button and enter password & username / ID number / phone or email.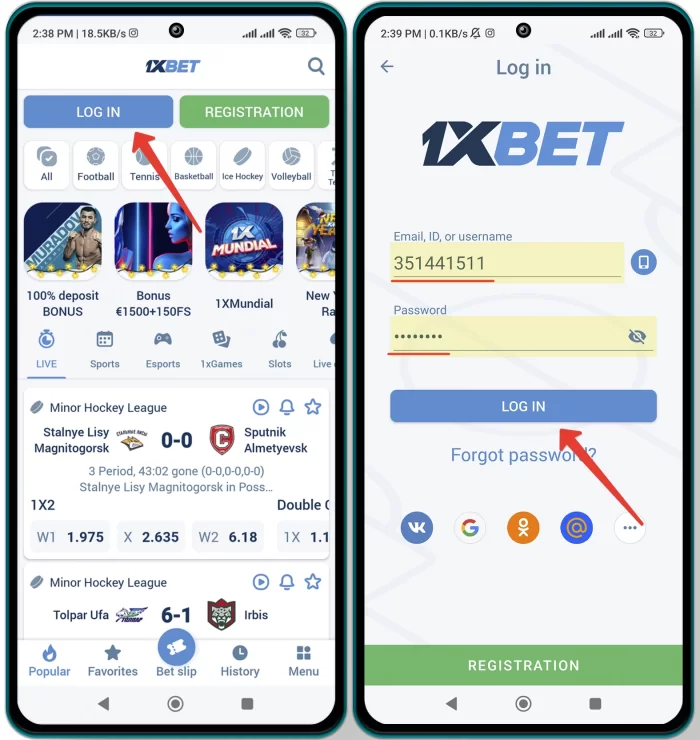 If the data was entered correctly, a new window will appear where you need to enter a one-time password. To do this, open Google Authenticator. Remember the password and go back to the bookmaker's office. To copy the cipher through the application on your phone, press and hold finger on your key.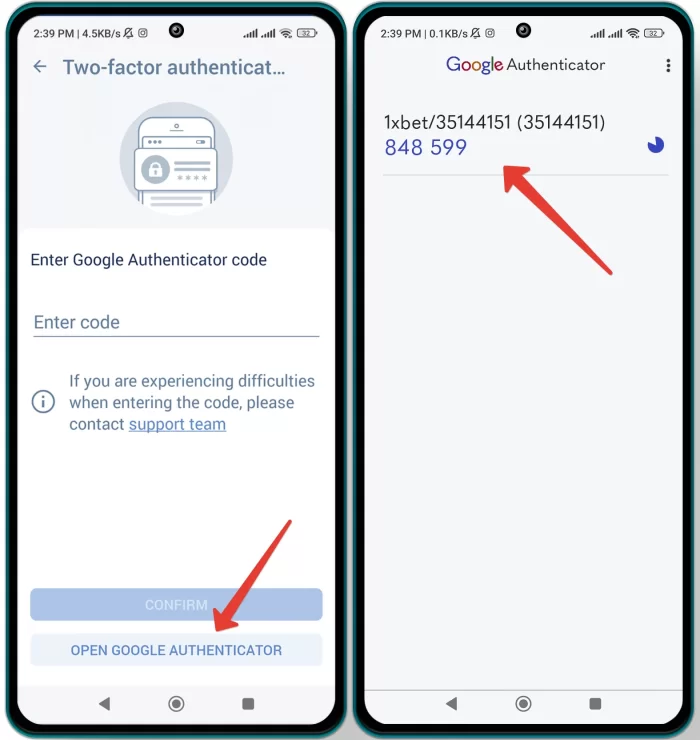 Paste the code in the 1xbet login menu and log in to your account.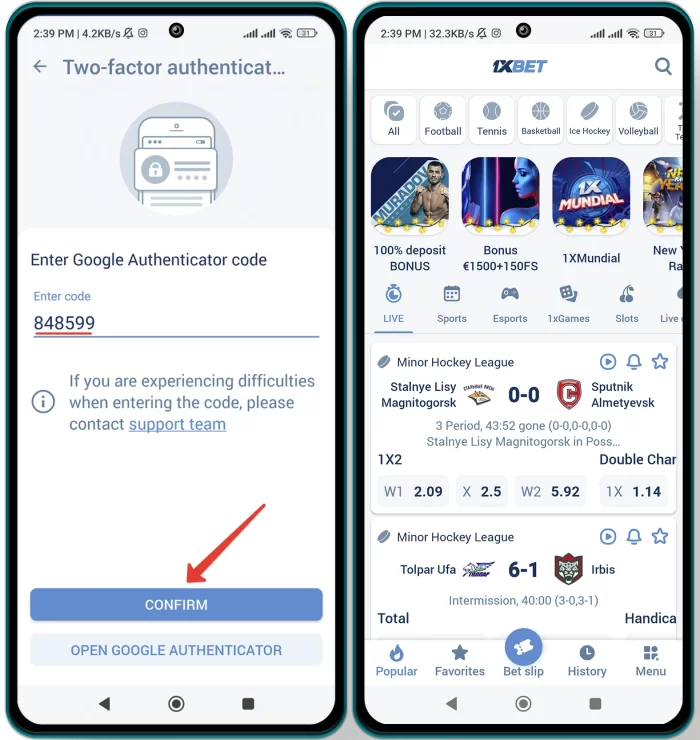 Keep in mind that the key is updated every 30 seconds. If you have experiencing difficulties when entering the code, please contact the support team.
How to Disable Google Authenticator in 1xbet?
✅ Deactivation two-factor authorization at a bookmaker can be done on the official website or through a mobile application. Disabling the function will allow you to log into your personal account without entering a one-time password. However, this will also reduce the chances of safe betting, which in turn can be used to hack your account.
To disable the Google Authenticator feature in 1xbet, open the main menu go to the
«Security Settings»
section.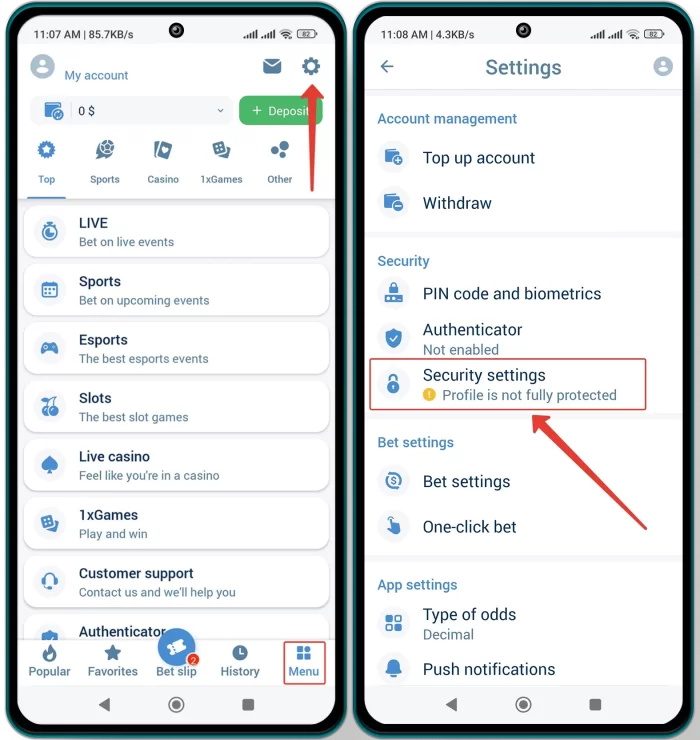 In the list of plug-in features to improve security
«Two-Factor Authentication» 
— will be marked with a green checkmark when enabled. Then you need to enter the secure key you received when enabling 2-factor authentication and click on the
 «DISABLE 2FA»
button.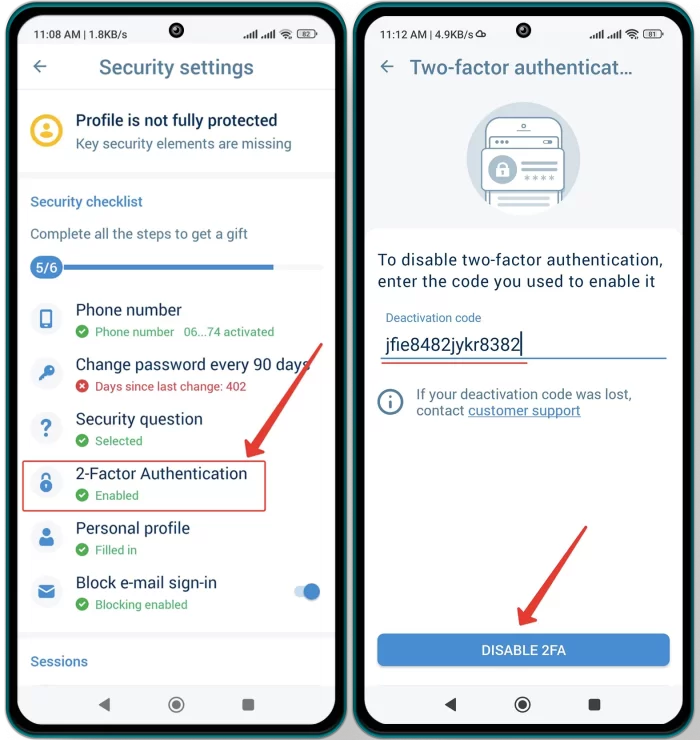 Follow the instructions and also watch the video below and you will be able to disable two-factor authentication in 1xbet. We remind you that the bookmaker will not request a verification Google Authenticator code and not its secret key, but a 24-digit cipher that was given when 2FA was enabled.
Video about disable two-factor authentication in 1xbet App:
If your secure key was lost, please contact support team. You can do this by sending a letter to the mail — security@1xbet-team.com. By contacting support, you will recover the Google Authenticator code for 1xbet.
1xbet Google Authenticator Code Recovery
How to recover 1xbet account? At first glance, it seems impossible to restore access to enter 1xbet when two-factor authorization is connected, but it is not. When connecting 2FA and registering with the Google authenticator, users are issued a secret key, which must be saved as a screenshot, text, or written into notes.

Thanks to the unique combination of symbols, you will be able to revert the settings of the renewable code for entering 1xbet. Below we will look at the step-by-step instructions for 1xbet authenticator code recovery.
How to Recover 1xbet Authentication Code:
Open the google authenticator app.
Click on «Enter Key».
Insert or enter the passcode manually.

If, on the contrary, you already have a connected key, but have forgotten the secret code from Google authenticator, you will need to contact google support. After that, a new key will be generated for you to restore Google authenticator for 1xbet.

In the case of if you did not save the key to restore access and performed a factory reset on your phone, you will no longer be able to use two-factor authorization to enter 1xbet. In this case, there is only one thing left - a new account registration. You can create a new account on the gambling site right now by logging in and registering at the link below:
When registering, use the promotional code
«ACODE»
and get an introductory bonus on free bets.
According to the rules, it is forbidden to register at the bookmaker 2 times, however, you can write to the support service and explain the reason for the violation of the user agreement. In a letter to
info@1xbet-team.com
, indicate that you do not have access to the first account and ask to delete it.
1xbet Link
About how to enter one xbet using the site's working 1xbet link for today....
How To Find My 1xbet Account?
Analysis of the problem with entering your betting personal profile on the website of the bookmaker's office - why does it say: "Invalid username or password"...
How to always win on 1xbet?
More about ways to make money in 1xbet....